Mai Zong Vue
Mai Zong Vue currently works for the Wisconsin Department of Health Services.  Mai Zong is also a cultural trainer and folklore performer, including Hmong poetry song and story teller since 1997.  She is an alumni of UW-Madison.
Mai Zong has been a tireless advocate for the poor for the past 35 years, especially the Hmong people and refugees.  She began to advocate for her family, extended family, and then the Hmong community in the 1980's.  Mai Zong's advocacy and grass-root activism led to the development of Hmong and refugee women non-profit agencies in Wisconsin and Georgia to provide human service; health and women's empowerment and leadership services for refugee women; Refugee Family Strengthening Program (a domestic abuse program) in Wisconsin; the Hmong studies position at UW-Madison; the Hmong Language and Culture Enrichment Program; and the Hmong Institute.
Nationally, Mai Zong served on a variety of boards that help improved the lives of others.  Internationally, she volunteered as a delegate to global gatherings that aim to advance the status of woman and children, including the State Department's Hmong-Lao Oversea Delegation to Laos in 2011 and Hmong American Delegation to Napho refugee camp in 1996, and United Nation's 4th Conference on Women in Beijing in 1995.
Mai Zong received numerous awards and honors for her tireless effort in serving the poor, including the YWCA of Dane County's Women of Distinction, Authentic Hmong Leaders and Trailblazer.
Brenda Her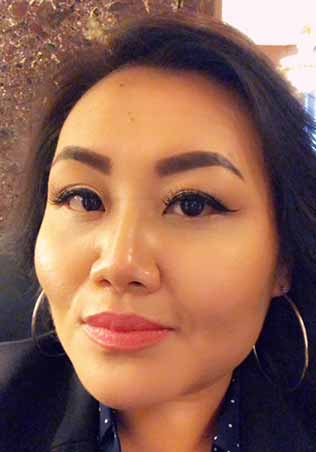 Brenda has been a native of Madison for the past 18 years hailing from Northern California. She is a graduate student at UW-Madison in the School of Education studying cultural relevancy and its significance in public schools with an emphasis on: the Hmong culture, the Hmong people, and the Hmong diaspora. She works full time advocating for High School students that are low-income and first generation college bound to gain access into higher education. She also spends her time working with community leaders on issues affecting the Hmong Community in regards to education in public schools. She serves on a committee for the MMSD Superintendent's Human Advisory Council, is a part of the Hmong Education Council, and is passionate about advocating for students of color. She is also passionate about: social justice, economic justice, educational justice, policy-reform, and finding sustainable solutions. In her spare time, she enjoys meeting new people, going to social events, singing, playing the piano and guitar, writing her novel, finding new hiking spots in Madison, and running to keep her active.
Choua Her
Choua Her has a B.A. in Sociology and minor in Political Science from the University of Minnesota-Twin Cities. She has over 15 years of experience working in social services providing culturally appropriate and sensitive case management, support services, and community outreach to clients of diverse backgrounds. From 2011-2014, she served as Secretary on the board of Empowering Hmong Women, Inc., a nonprofit aimed to educate, inspire, and empower Hmong women for a better future through lifelong learning. She has also served on the planning committees of several Hmong-based initiatives including Hmong Professional Networking and Hmong Early Childhood Summit. She is passionate about Hmong culture and Hmong community issues. She enjoys cooking and traveling. Choua is currently a Program and Policy Analyst in the Bureau of Working Families at the Wisconsin Department of Children and Families.
Youhung Moha Her-Xiong
Youhung Moha Her-Xiong was born in the Ban Vinai refugee camp in Thailand and emigrated with her family to the United States when she was four years old. She grew up in Eau Claire, WI where she attended UW Eau Claire and graduated with her Bachelor's in Social Work. She received her Master's in Social Work from UW Madison, and is currently a Doctoral Candidate in the PhD in Social Welfare program in the School of Social Work at UW Madison. Her research interests are in health care disparities, aging, end of life care, implicit bias reduction, gender/women related issues in cultures, and racial/ethnic minority community related interventions and education.
She worked as a medical social worker at Mayo Clinic Health System Eau Claire Hospital, where she provided care for patients on several medical units including the critical care unit and the emergency department. She also worked as a family case worker with clients who were screened out of child protective services in St. Paul, MN. Moha gives back to her community through volunteering as a mentor to at-risked adolescents, board members to several organizations, member on several planning committees, and as a volunteer to spend time with Hmong elders who have dementia. Moha also provided free consulting services to several organizations on Hmong related topics. Moha is passionate about helping and working with people, especially with the elders. In her free time, she enjoys walking, running, biking, fishing, reading, and photography.